很多同学在图表作文学习过程中,经常不知道去学习范文。其实图表作文的数字都是固定的,最好的学习办法就是自己写一下,然后对照范文,看看 用词、句子结构、主要思路、主要对比、时态等方面的差异即可。
最不好的办法就是背中国老师炮制的替换表达。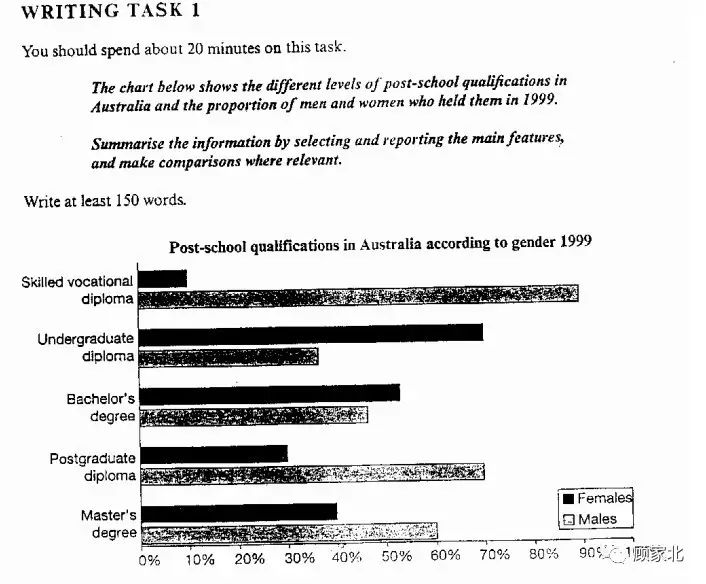 我写的段落
The bar chart compares the proportions of men and women who gained different levels of qualifications in Australia in the year 1999.
The widest gender gap was seen in the skilled vocational diploma, with the ratio of males to females reaching 9 to 1. Men also outnumbered women in postgraduate diplomas: while 70% of people who reached this level of qualification were male, only 30% were female. The difference was less noticeable in master's degree.
There were more women than men participating in undergraduate education. Women accounted for 70% of those who obtained an undergraduate diploma, and 55% of those who obtained a bachelor's degree, in contrast to 30% and 45% of men respectively in these qualifications.
It is clear from the chart that men outnumbered women in lower levels of qualifications and also in Master's degree. A different pattern was seen in Bachelor's degree and postgraduate diploma.
对比考官的段落
开头段
The chart gives information about post-school qualifications in terms of the different levels of further education reached by men and women in Australia in 1999.
主体部分第一段
We can see immediately that there were substantial differences in the proportion of men and women at different levels. The biggest gender difference is at the lowest post-school level, where 90% of those who held a skilled vocational diploma were men, compared with only 10% of women. By contrast, more women held undergraduate diplomas (70%) and marginally more women reached degree level (55%).
主体部分第二段
At the higher levels of education, men with postgraduate diplomas clearly outnumbered their female counterparts (70% and 30% respectively), and also constituted 60% of Master's graduates.
考官写的结尾段
Thus we can see that more men than women hold qualifications at the lower and higher levels of education, while more women reach undergraduate diploma level than men. The gender difference is smallest at the level of Bachelor's degree, however.
相同之处:
都是男女对比,都用了gender difference , outnumber这些表达

都是用文字+数据的描述方式

都注意分子分母法的准确使用,我用的是accounted for, 考官用的是constituted
不同之处:
虽然我们都尝试使用一些概括性的表达,譬如说我用undergraduate education 去概括两种文凭,考官使用的lowest post-school level, higher levels of education更为简练。

句子结构上,考官用where定语从句去描述lowest post school level,更为变化。

考官的marginally more, clearly outnumbered这种副词的使用也非常生动。



精品班1月11日(今天)开始!这是年前最后一个精品班,下一个精品班2月5日开始。 2月的写作口语(词伙)预测班1月23日开始。
对网络课程咨询和报名感兴趣的同学,请点击左下右方的"阅读原文"或发信息"课表"至对话框,获得课程信息
↓↓↓↓